As your partner, we offer a wide range of information and optimal technology, materials, and processed products.
Products
Aluminum Plates
We perform the slitting of a variety of thick aluminum plates processed into rolled coil as well as thin plates for a wide range of use, including automotive heat exchanger use, according to the required specifications of each customer.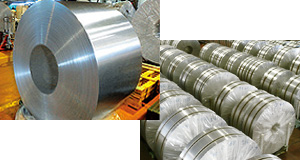 Aluminum Extrusions
We work in cooperation with domestic and overseas extrusion manufactures, process pipes, shapes, and wires into sophisticated forms with excellent dimensional accuracy, thus responding to a wide range of customer requests to supply high-precision materials and processed products of high quality.
Copper Pipes
We supply a wide variety of piping parts, such as level wound coils (LWCs), straight pipes, and processed parts, for refrigeration and residential air conditioning as well as heat exchanger applications.